Gastronomischer Guide der Seychellen
Just a few cuisines in the world can boast such a diversity of delicacies as Seychellois cuisine. It`s all about Creole culinary traditions influenced by the rich ethnic composition of the archipelago – settlers from Africa, India, France, China and England. As a result, today you can taste local national, European and Asian cuisine in virtually any Seychelles restaurant.
An original mix of its flavours captures not only gourmets' hearts. Fresh vegetables, seafood, fish, rice, savoury spices and native plants – must have in Seychellois list of products. Local chefs use their own unique ways of combining ingredients to create the true culinary masterpieces. Here are just a few of them!
Rice dishes
As has been said, not a single Creole dinner goes without rice. White rice with saffron, lemon juice, vegetable oil and hot sauce is used for preparing the delightful dishes.
Jambalaya. This dish got its name from French «jambon» - a ham. Originally it was cooked with sausages, but now they use seafood instead. Jambalaya looks like Uzbek plov or Spanish paella.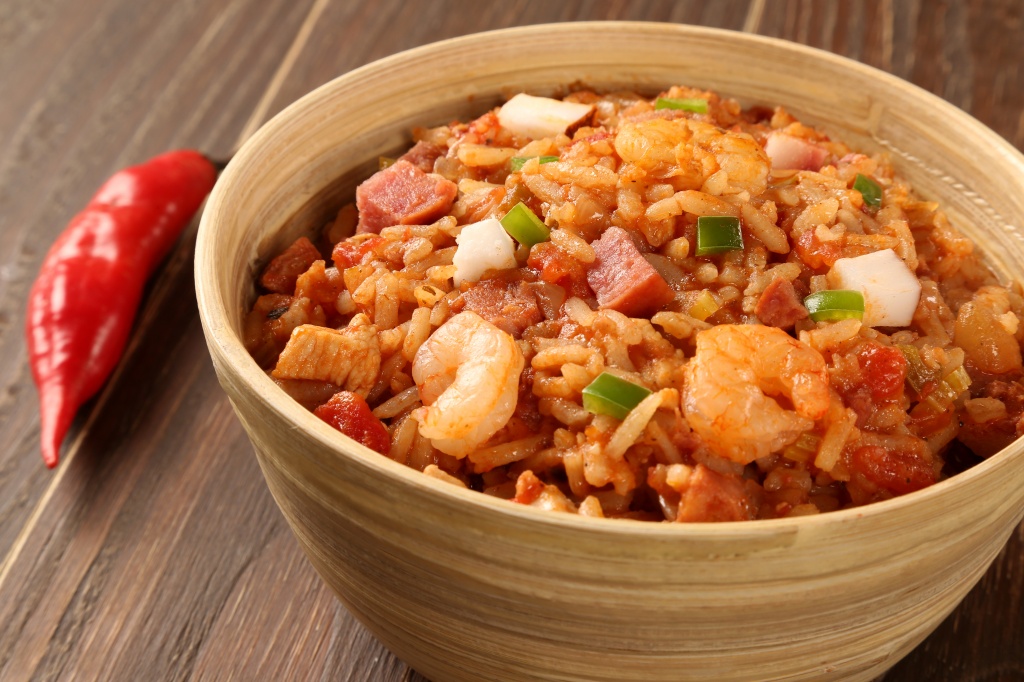 Creole Jambalaya - Rice cooked with shrimp, smoked sausage and tomatoes

Fish with rice (Pwason ek diri) is one of the most popular dishes in Seychelles. Oil and spices make it zesty, and local vegetables and fruits add a little bit of sweet and sour taste. They also usually put curry in rice.
Creoles prefer such spices as:
• curry;
• ginger;
• garlic;
• chili.
There can be no question what to taste in Seychelles if you choose Grand Savoy for dinner: the main hotel restaurant offers a variety of Creole delicacies and international dishes. You can enjoy Asian, European, South American and other cuisines from all over the world during the restaurant theme nights (see the full schedule on the website).
Fish and seafood
The Indian Ocean is the main source of food for Seychelles islands' inhabitants.
With so much tinder of fish and seafood, islanders don`t need additional meat and protein. As usual, Seychelles fishermen go fishing twice a day. Fresh and varied catch gets quickly sold out to the local housewives and restaurateurs.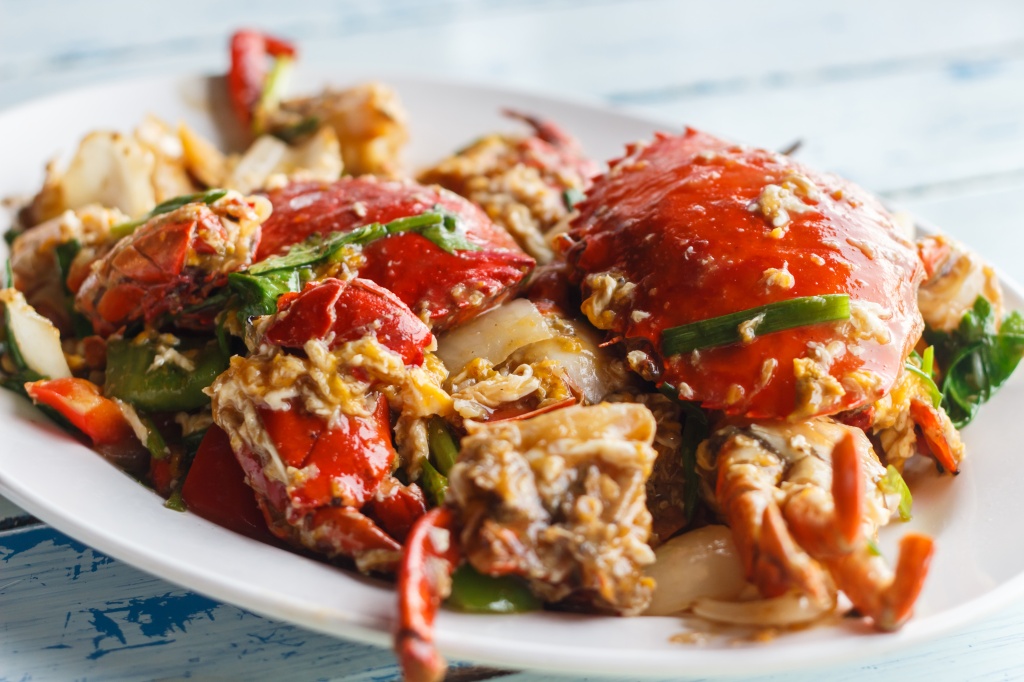 Fried crab in yellow curry

Seychellois cook fish in various ways: fried, roasted, with curry souсe and banana leaves. Make sure to try traditional Seychelles delicacies – pickled swordfish, tek-tek shells, trululu crabs and lobster in lemon sauce. Only in this way you will enjoy the real Seychelles cuisine.
Variety of seafood delicacies is presented in Pescado restaurant menu.
Exotic food
Seychelles has much to offer for those who prefer unusual and exotic food, for example, shark or bat meat. Cooked up bats cannot be compared with any other meat dishes because of its unique original taste.
Octopus with chives and chicken cooked in coconut milk also in the list of favourite dishes among tourists.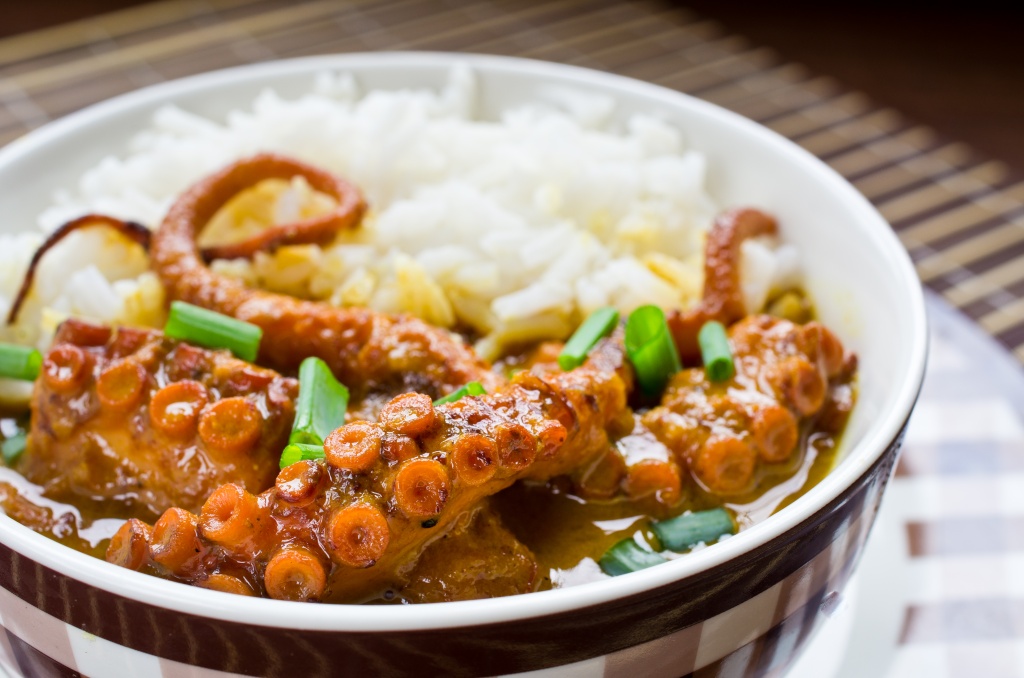 Octopus with rice and chives

Mashed bilimbi (cucumber tree fruit) is often used as a garnish instead of rice. It tastes like apple, grape and plum.
Tropical paradise
Seychelles is known as a tropical paradise, where you can enjoy fruits all year round.
Mango, avocado, pineapple, melon, bananas, oranges, grapefruits, starfruits, guava, breadfruit and many more – it`s hard to imagine Seychelles holidays without it. Papaya, passion fruits and local favourite – coconut – refresh in hot weather and make your day brighter.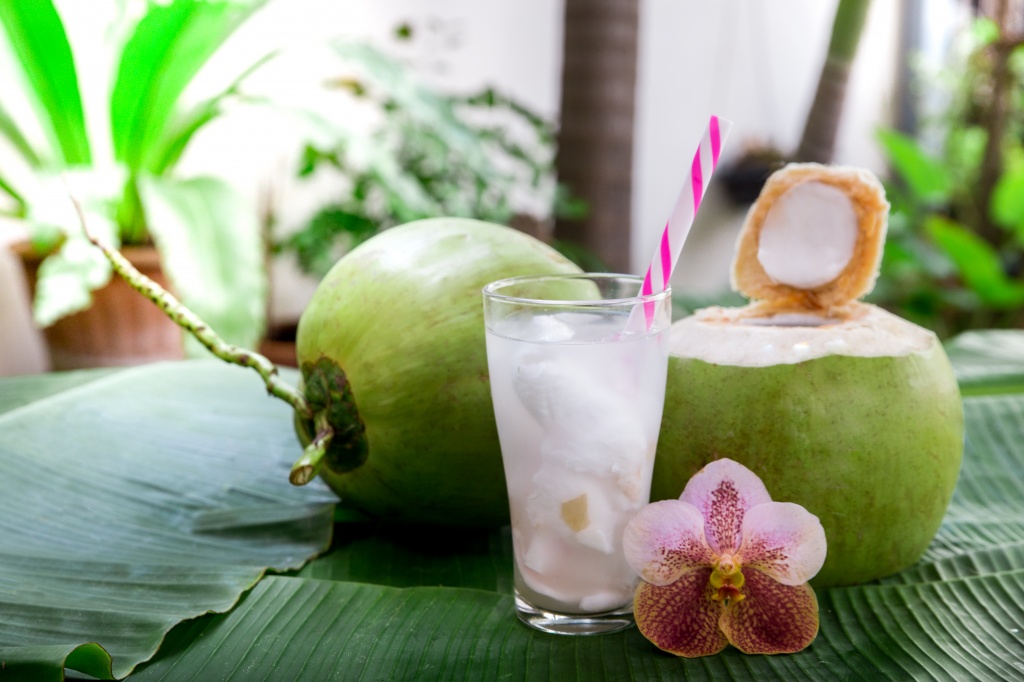 Ice-cold coconut juice

Coconut juice helps the body to handle with the jet lag and adapt to the weather in the Seychelles.
! "15 varieties of bananas grow in the Seychelles"
Fruits with rich flavour are often served as a dessert or as a garnish to the main course. It is usually mashed and used for pancakes toppings. The typical cucumbers, eggplants, Chinese cabbage also grow in the islands. Vegetable dish "Brigel" is cooked from eggplant with a lot of spices. Round tropical pumpkin giramon is made into a cream with original taste, and chips and salad are made of breadfruit.
Beverage
Seychellois like to add spices to the black tea. Between tea and coffee, the locals will choose the first one, preferably with ice.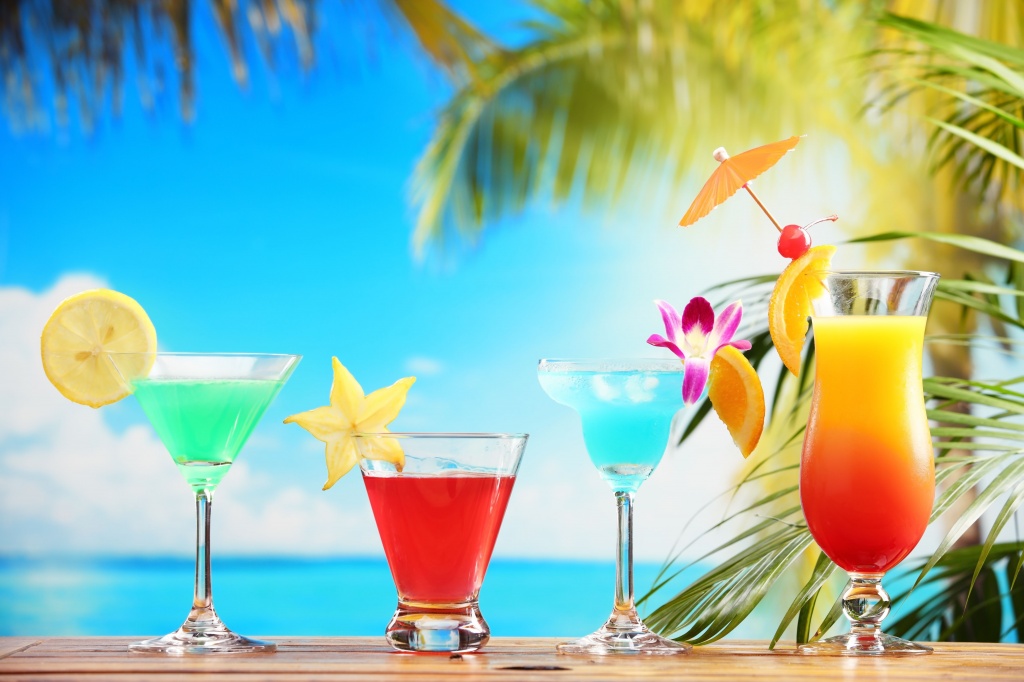 Tropical cocktails

The fermenting coconut juice, the Sabriou beer, "Dititronel" mint tincture and strong "Baca" based on sugar cane are the most popular alcoholic Seychelles drinks.
Where to eat in the Seychelles
There are a lot of restaurants of local cuisine in Savoy Seychelles Resort and Spa and around it. Among them - Grand Savoy, Pescado, Gecko Bar, Mahek, Ocean Deck Bar, The Island Trader, Coral Asia. Dishes of European and Asian cuisine are also served here for those who prefer classic.