Seychelles fishing
Seychelles islands are like a magnet for tourists not only for safe beaches with snow-white sand, untouched wildlife, the purest ocean and rich underwater world. The Indian Ocean is home for more than 900 kinds of fish most part of which is quite rare. Isn't it a heaven for anglers?
Places for Seychelles fishing
Tourists who go fishing in Seychelles choose Mahe, La Digue, and Praslin islands.
Unlike Mahe island, La Digue and Praslin provide less equipment and transport for fishing due to their small territories.
The islands can offer fantastic conditions for Seychelles big games fishing both away and near the shore.
Deep-sea fishing on the buffs guarantees frequent bites and diverse hauls. Such fishing is more beneficial from Praslin or La Digue as the way to the buffs is shorter than from Mahe; it helps to save time and money for a boat rental.
The inshore reefs and shallow water near them are also ideal for catching terrific fish.
Seasons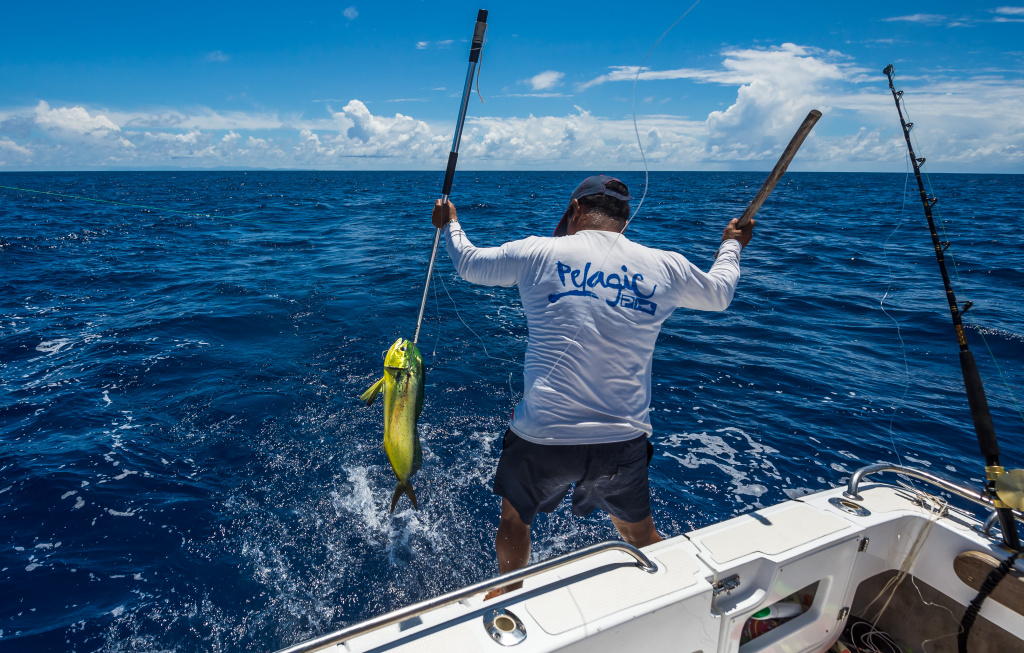 As the Seychelles archipelago is located near the equator, the temperature and the sun remain unchanged almost the all year round – that`s why Seychelles fishing is always great.
Though experienced anglers single out the best period from November to April. The ocean is mostly calm and more predictable.
Anglers can catch a tuna, snapper, barracuda, reef shark, and golden mackerel all year round. However, marlin and a sailfish are caught only from November to May and November to February.
Types of Seychelles fishing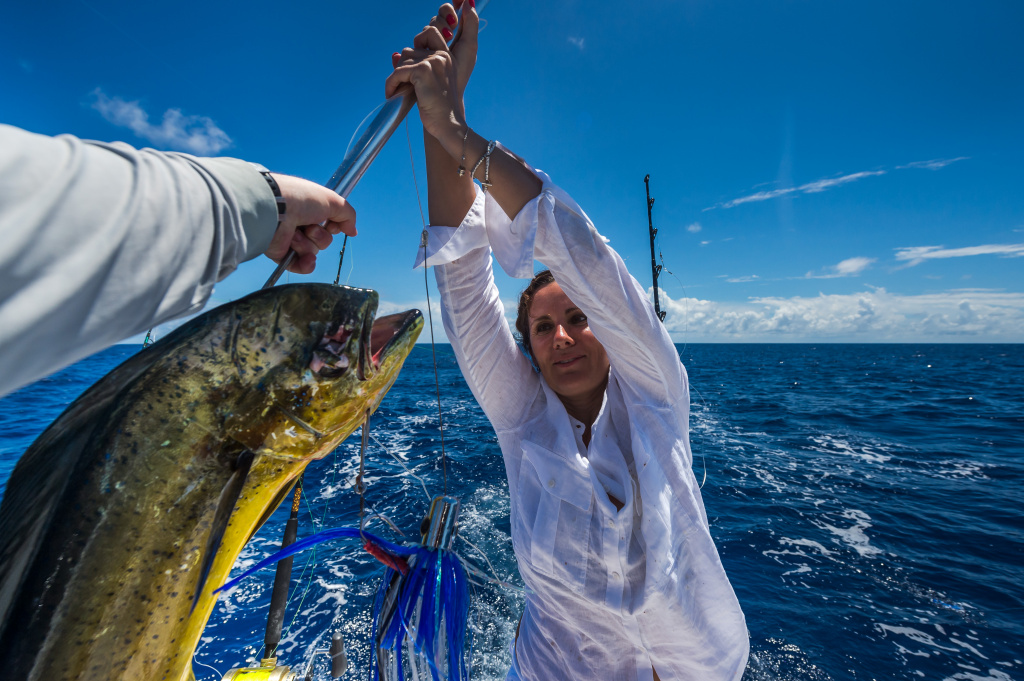 Fishing in the Indian Ocean is ideal for both beginners and experienced anglers.
There are several types of fishing:
• Seychelles big game fishing. A boat with special equipment is required. You can catch marlin, sailfish, and a few species of tuna, bonito, barracuda.
• Bottom fishing – fishermen use a spinning with a jig bait on the edges of reefs, about 40 miles away from the shore. The strong course and bit drop-off predominate. There are a grouper-peacock, golden, marble and red grouper, green snapper, three-stripe snapper. Some people get lucky to catch a sailfish.
• Flats Fishing. – fishing on shallow water that called flats. Simple spinning and fly fishing are preferable. People catch bonito, striped and big barracuda, a few species of grouper, bonefish, shark, yellowfin tuna.

Necessary gears and peculiarities of Seychelles fishing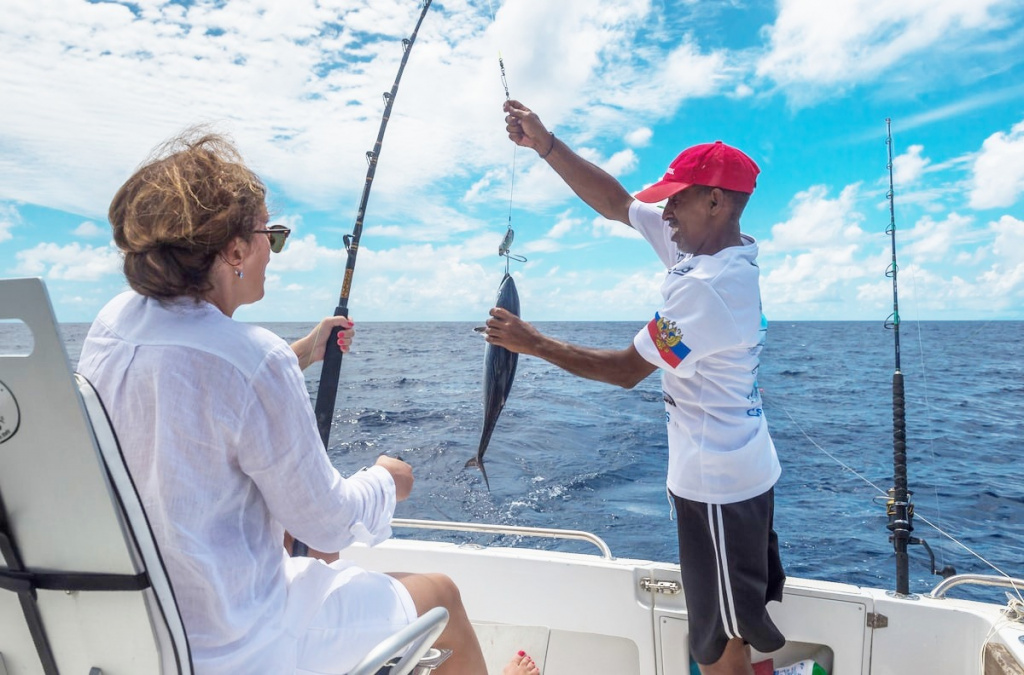 The ocean inhabitants are much stronger that river fish, they resist quite hard. That's why Seychelles fishing takes high-quality gear and a boat rent with the special equipment. The farther you swim away from the shore, the more chances that you come back with a trophy.
It is also necessary to consider tides. A few hours before a tide, you will be able to get a big game, but after the ocean seems to be empty.
Beginners in fishing can always rely on the professionals who will help to find the best places, tell you everything about catching different fish, and choose a proper bait.
Popular techniques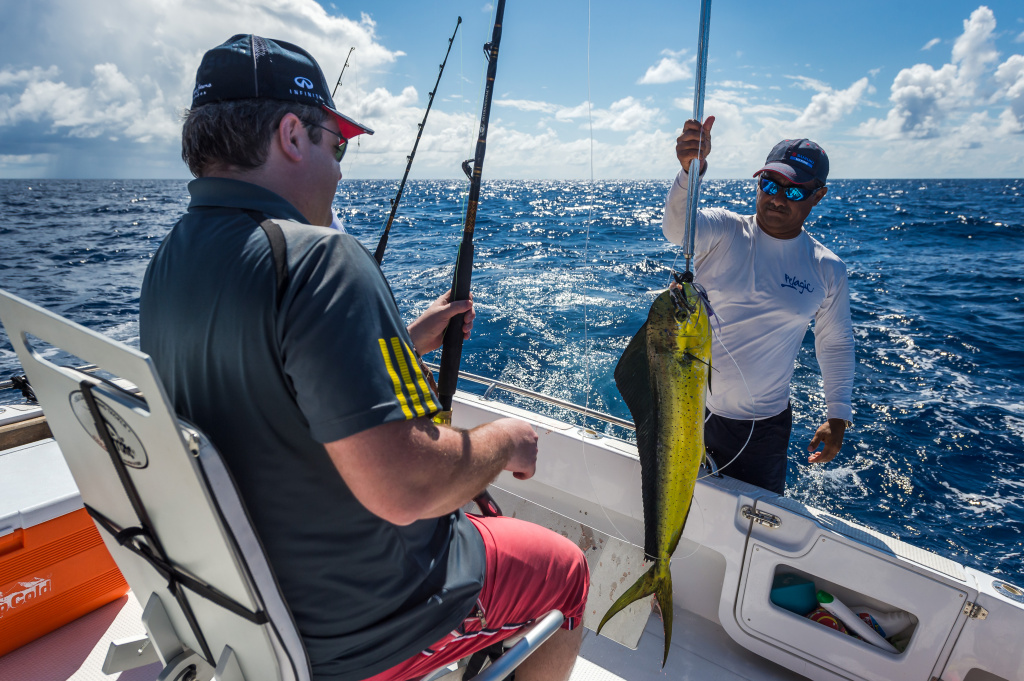 The ocean fishing in Seychelles includes five popular techniques:
• Trolling. People catch fish from a moving boat. The method is extremely effective as it spreads over huge water territories. The speed, depth, distance, and types of waves influence a choice of bait.
• Baiting. They use a natural bait or a living fish that are dropped on the ocean bed and stay there with the help of a sinker. A boat has to move as slowly as possible oк just stop. The method is ideal for catching sharks.
• Seychelles fly fishing. It is popular among experienced anglers as it takes special skills and strong gear. They catch fish in shallow water near reefs and shores.
• Jig. Fishing in the open ocean from a boat that moves on drop-offs. The choice of speed depends on tides.
• Casting. It is about casting a spinning. The recommended places – rocks with good drop-offs, the lagoons of outer islands.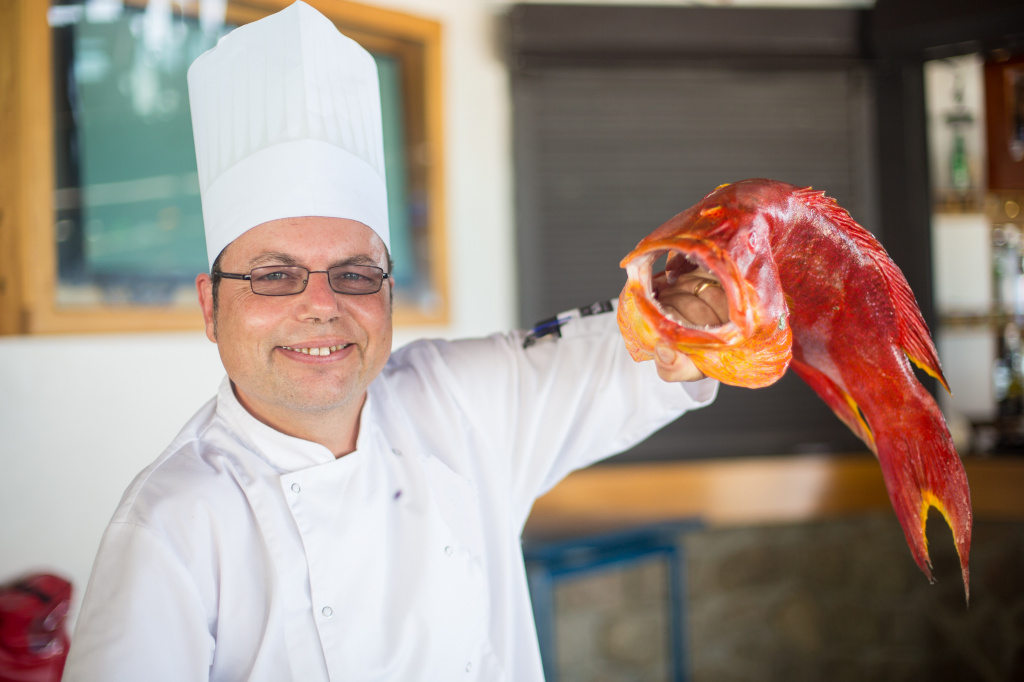 Come to fish in Seychelles! The exciting activity will inspire even beginners and become great entertainment for the whole family. As a bonus, greatly cooked catch according to the best recipes of Seychelles cuisine.