Savoy Spa - useful information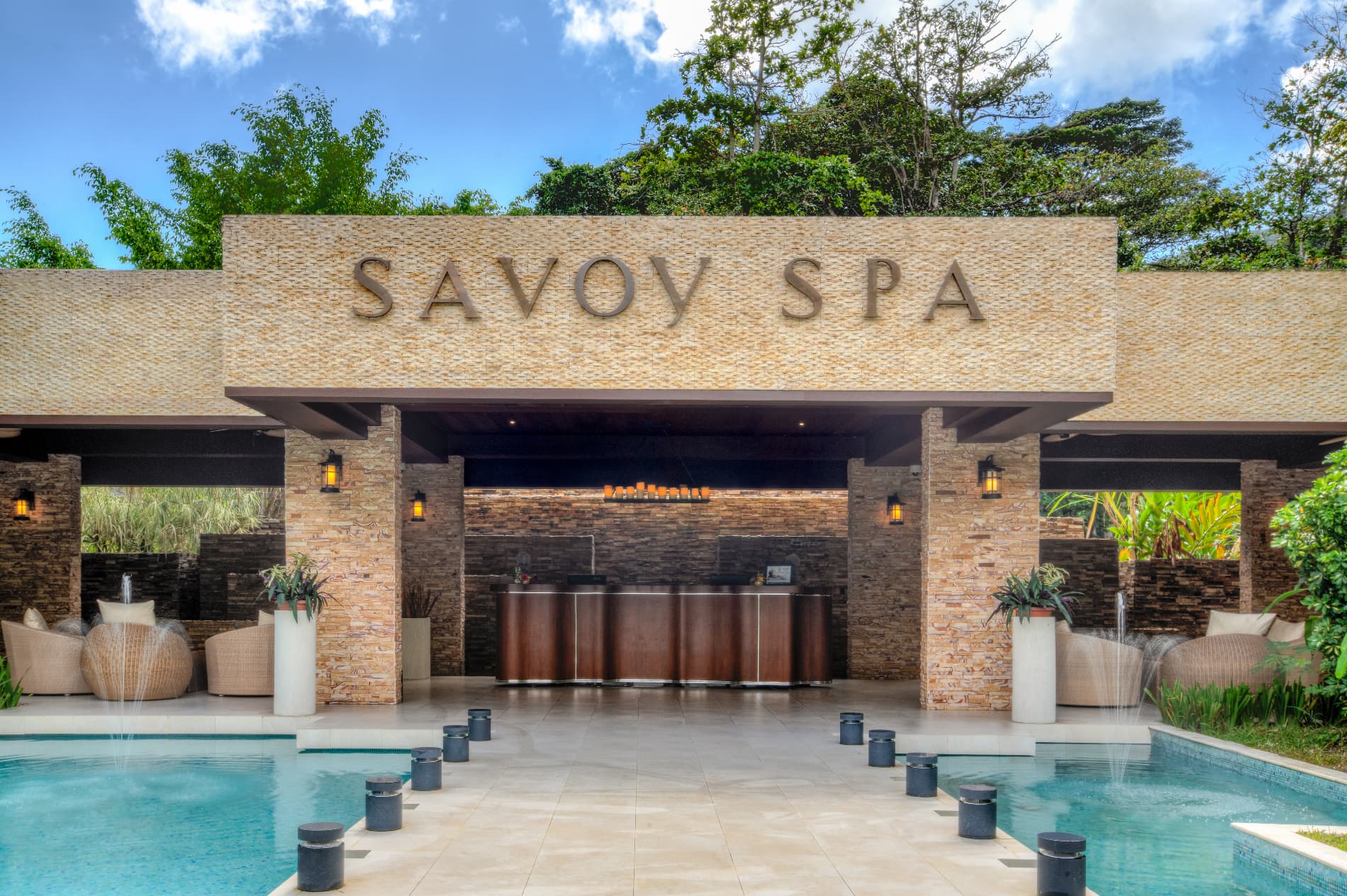 FACILITIES
Savoy Spa features 9 spa treatment rooms, which includes 3 couple suite rooms with one jacuzzi for a more intimate and private haven, and 6 single treatment rooms with one own steam.
Our facilities include Russian Banya, Hammam, Experience shower with aromatherapy and colour therapy, Bucket Shower, a Spa pool with an outdoor relaxing area to unwind and relax pre- and post-treatment.
The Savoy Spa further embraces the full concept of wellness with a Yoga pavilion and Fitness centre with changing rooms and lockers. Lastly, the Spa boutique filled with beauty products for home, body and facial care from our Spa partner Sothys.
SECURITY
Spa and Fitness facilities are available for all guests from the age of 16 years and above. Glass bottles are not allowed inside the Spa and around the outdoor swimming pool. It is forbidden to dive in the swimming pool or run close to the pool.
CHECK-IN
As a courtesy to our guests and to ensure you enjoy the full benefit of your treatment, please be prompt to your appointment. We respectfully recommend that you arrive 30 minutes prior to your appointment to allow yourself to relax and enjoy our facilities.
RESERVATIONS/BOOKINGS
We highly recommend that you book your Spa treatments in advance to avoid disappointment. However, we will try to do our best to accommodate walk-ins. Our receptionists and therapists will be able to advise you about the best treatments to satisfy your requirements.
Each treatment will begin and finish at the established times. In case of late arrival, the duration of your treatment will be reduced so the next guest is not delayed, although the full charge is still applicable. Any treatment performed outside the opening hours will incur a surcharge of 25%.
HEALTH
We kindly request that all guests complete a Wellbeing Consultation card with a health questionnaire prior to receiving any treatments. Please inform the reception and therapist if you have any known medical conditions that may affect your treatment. As a healing environment, our priority is your well-being and your safety.
CANCELLATIONS
We understand that sometimes you may need to change your plans. We kindly ask that you give us a minimum of 24-hour notice to reschedule your appointment (subject to availability). Appointments cancelled within 24 hours will incur a 50% cancellation fee. No show will incur a 100% cancellation fee.
TREATMENT IN YOUR ROOM
Bring the spa experience to the comfort and privacy of your room (only certain treatment can be performed in your room (subject to an additional 40% charge). Any behaviour towards our therapists which may be considered disrespectful or inappropriate will not be tolerated.
WHAT SHOULD I WEAR?
In your spa locker, you will be provided everything for your treatment: disposable underwear, a robe, slippers, towels and all necessary amenities. A bathing suit is required for the pool and wet facilities (Russian banya, steam room, etc.) Sportswear and sports shoes are required in the Fitness center.
VALUABLES
We recommend that you keep your valuables in the safe of your room. The Spa will not assume any liability for loss or damage of any kind.
DEAR CHILDREN - AGE RESTRICTION
To maintain the integrity of the spa environment, children under the age of 16 are not allowed in spa areas. To receive treatment, children between the ages of 10 and 18 years must have a legal guardian present in the room. We regrettably cannot accommodate babies and young children in the treatment rooms or relaxation lounge.
DEAR GENTLEMEN
We recommend shaving prior to having a facial to ensure maximum comfort and benefits to the skin.
GREEN ENVIRONMENT
Savoy Spa is a fresh and pure environment – free from environmental noise pollution. Please help us to maintain its serenity by refraining from smoking and turning off mobile phones and electronic devices before entering.
PAYMENT
All prices are stated in Seychellois Rupees (SCR) and include 10% service charge and 15% applicable government taxes. Please note that all treatments will be offered subject to availability and may be subject to changes.