Reisezeit Seychellen: Sommer
This time we'd like to give you an overview of the summer months in Seychelles. This article should help the tourists to choose when to go to Seychelles on vacation depending on their interests.
You can find the first "winter" part here
The issue of "When to go to Seychelles" is replaced by another one – "What is the purpose of your visit".
Summer in Seychelles is a wet and hot season, which starts in November and lasts until April.
It is a period of high precipitations. The monthly average is about 244 mm, and it can't spoil your holidays – the ocean is warm. The sun shines brighter and hotter. The number of activities and events are even more significant than during dry and cool Seychelles winter.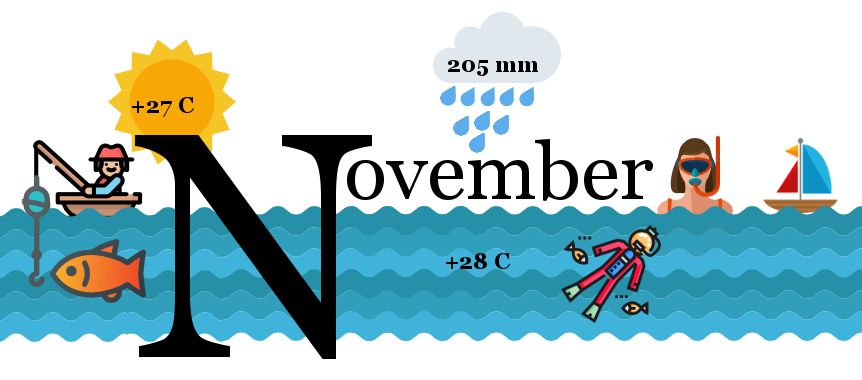 There is summer in the southern hemisphere of our planet. It becomes warmer and wetter also. Although there are lots of sunshine and the ocean is calm, but the wind already had changed to Northwestern.
Recommended activities:
Fishing, sailing, snorkelling, diving
Events to pay attention:
Seychellois celebrate All Saints' Eve (Halloween)
---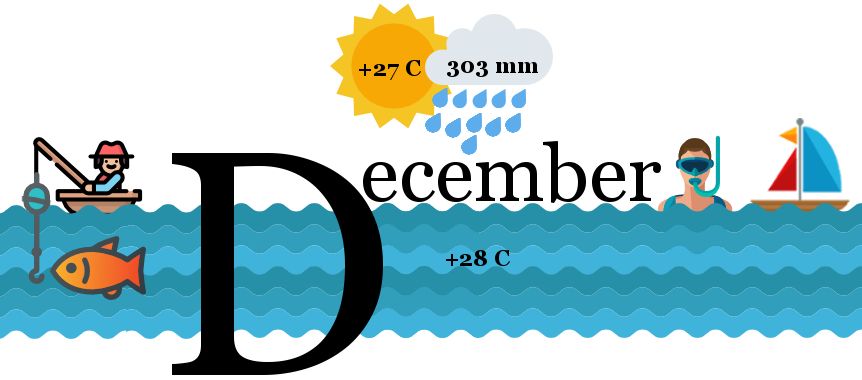 Rain season in Seychelles. As it is usually happening in tropics, rain and sunshine follow each other. Tropical shower in Seychelles comes from nowhere, pours down in seconds and disappears without a trace. It falls from the sky like a wall of water. If you were caught by out of the shelter, you would get soaked to the skin in the blink of the eye. To walk under such rain is an adventure. You'll remember that for long!
Recommended activities:
Fishing, sailing, snorkelling.
Events to pay attention:
The main holiday in December and the whole year is Christmas. As in Easter time, there is a high demand for hotels. We recommend you to book your accommodation in advance.
Seychelles Ocean Festival – SUBIOS - takes place on Beau Vallon in the first week of December. It has its purpose to draw attention to the Ocean. All participants have a chance to watch a documentary about ocean life, to sail on the boats, to visit thematic exhibitions, craft markets, and other competitions and performances.
---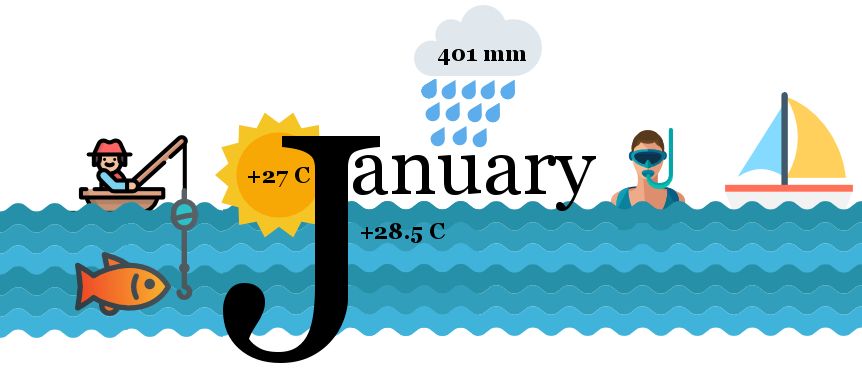 January is the peak of the rainy season and the middle of Seychelles summer. January has the most precipitation comparing to other months. It characterised with high humidity. Nonetheless, there are lots of sunshine on the islands.
Recommended activities:
Fishing, sailing, snorkelling.
Events to pay attention:
Seychelles celebrates the New Year.
Seychelles is a multi-confessional country. Hindu disciples celebrate Thaipusam. It is the day of worshipping the god of war Lord Murugani. It accompanies with rituals and offering called Kavadi which means "Burden Dance".
The annual regatta takes place on Praslin Island in January. Lots of different boats and vessels can be seen there – yachts, catamarans, canoes and even traditional pirogues. The deepwater fishing contest is conducting during the regatta.
---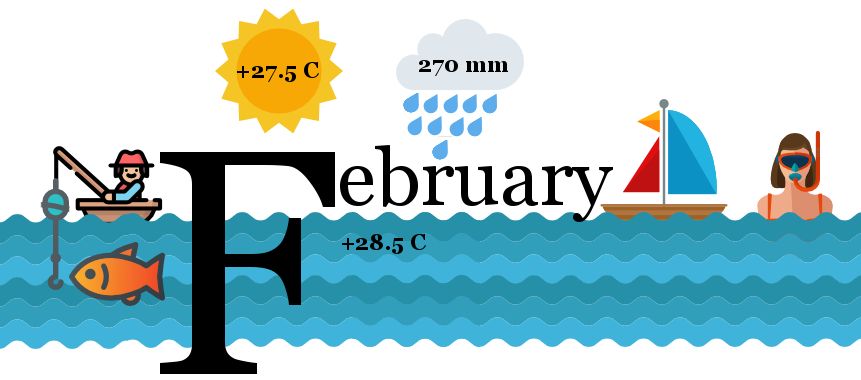 Precipitation in February is much less than in the preceding month, therefore more sunshine for everyone. Humidity decreases.
Recommended activities:
Fishing, sailing, snorkelling.
Events to pay attention:
The China Day celebrates during the Chinese New Year period.
Last Sunday of February is the day of eco-marathon. This event attracts more than 4,000 people from over the world.
---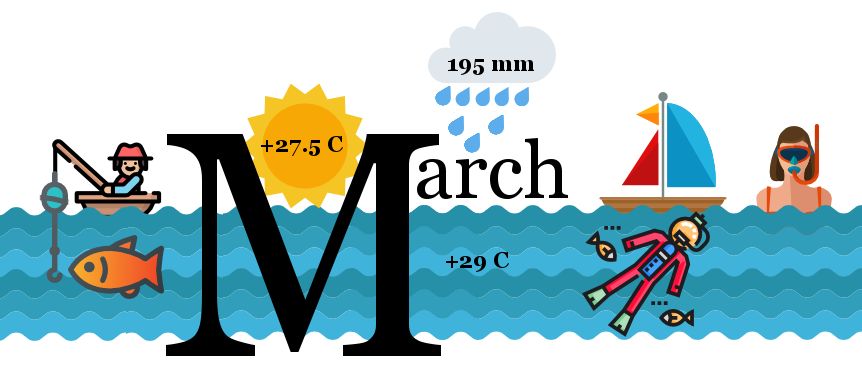 It is the end of the rainy season in Seychelles. The air becomes warmer than in previous months. The sky is clear, but sometimes you can be caught by occasional rain. North-west monsoon is weakening, and the ocean is calming in turn. March and the following April are the months with the calmest Ocean.
Recommended activities:
Fishing, sailing, snorkelling, diving.
Events to pay attention:
FêTE DE LA FRANCOPHONIE – March, 20th is the day when locals celebrate International Festival of French language and French culture.
Seychellois is a multi-confessional nation; therefore the most important religious dates are praised widely. There's a Good Friday in March.
---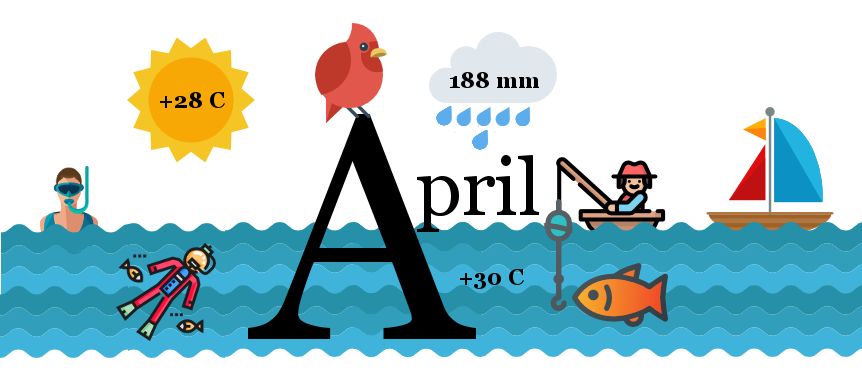 The warmest month in Seychelles. Wind weakens: south-east trade wind will soon replace north-west monsoon. An ocean is calm and ideal for any type of fishing.
Recommended activities:
Fishing, sailing, snorkelling, diving, bird-watching (breeding season).
Events to pay attention:
There's Easter in April. It celebrates all over the world. Due to the Easter holidays, the demand for hotels increases dramatically. If you decide to go to Seychelles in April, book your accommodation in advance.
International Carnival takes place on the Mahe Island in April. It is considered one of the most bright and colourful carnivals in the world. More than 1,500 participants from different countries dressed in fancy costumes march along the streets of Victoria.
---
Enjoy your holidays!
Every month of a year has its features. There is an opinion that the Seychelles islands are the place only for ocean and beaches and lack of any other activities. We hope that these articles can serve you like a reminder about activities in Seychelles to prove that there're lots of funny and exciting events, and you will choose ones that you prefer to have an incredible vacation!